Utah State University
Intensive English Language Institute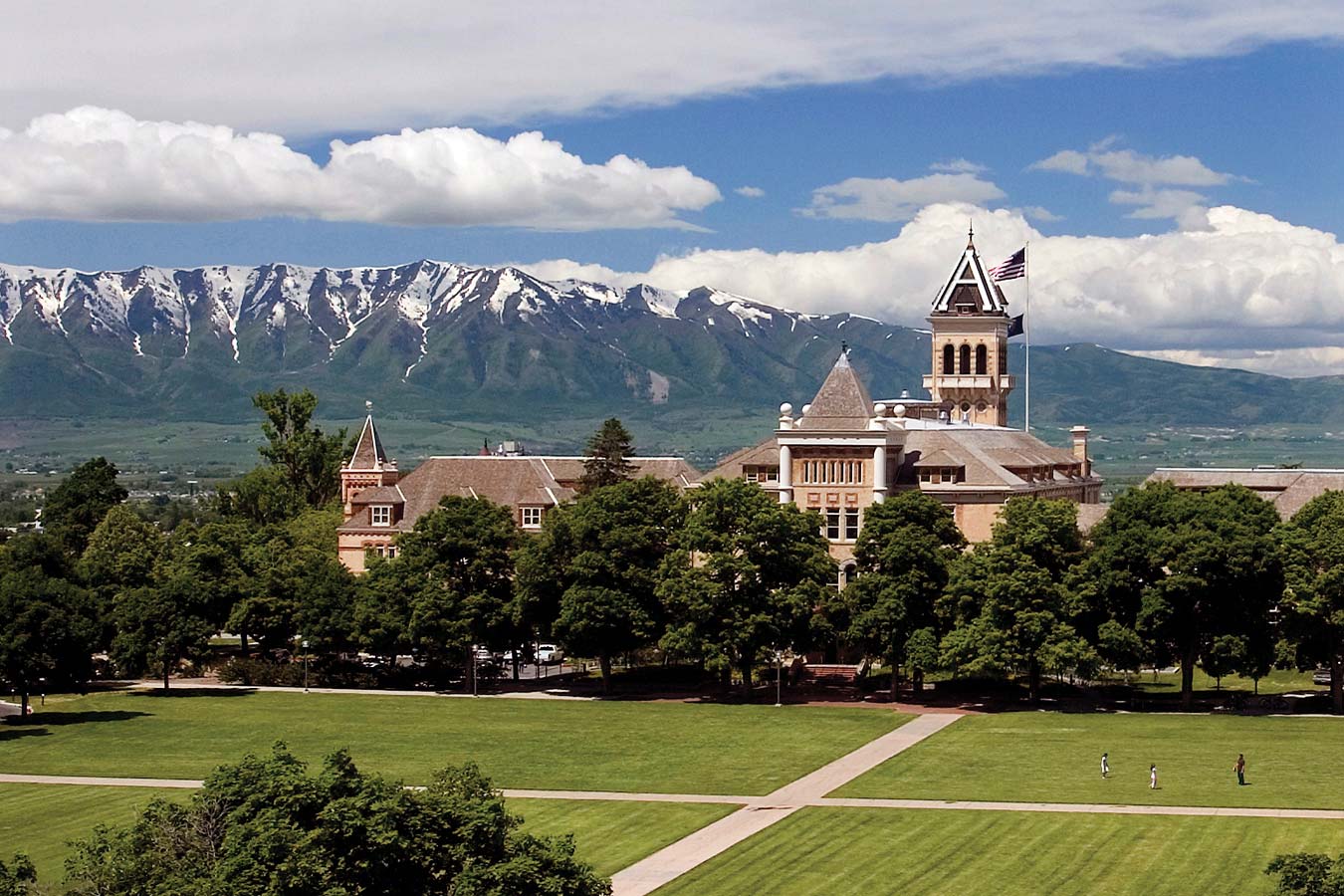 Fast Facts
School Size

Medium

Tuition

$5,000—$10,000 Semester

Affiliation

Public

Type of School

University

Student Body Gender

Co-ed

Religious Affiliation

No Affiliation

Scholarships for International Students

No

Conditional Admission Available

No

Setting

Small/College town

Type of Housing

Residence Hall, Apartment, Dormitory

Social Media
Utah State is located in a safe and beautiful campus setting. We have a strong commitment to international and intercultural education and welcome students from all over the world.
Becoming part of the university community is a major part of the students' education, and students can make friends in many ways. It may be through living in the residence halls, teaming up for a class project or a lab experiment or joining the honor society. It may be through a volunteer experience or going to a concert with a group, shopping, or attending a sporting event.
USU is a State University located 80 miles north of Salt Lake City
44 departments in seven academic colleges, as well as an extensive school of graduate studies
Colleges include Agriculture, Business, Education & Human Services, Engineering, Humanities, Arts and Social Sciences, Natural Resources, and Science
USU has over 23,000 students with 822 international students and scholars from 77 countries
USU's International Student Council and 200 other student organizations provide for student involvement
Student-faculty ratio of 18:1
Several on-campus housing options available
Many outdoor activities available, including skiing, hiking, biking and rafting
Education
Founded in 1888, Utah State University integrates teaching, research, and service in a wide range of subjects. The campus is on a 400-acre site overlooking the city of Logan, Utah, and the beautiful Cache Valley. Designated as a Carnegie Foundation "Research University I" institution and accredited by boards such as the Northwest Association of Schools and Colleges, Utah State provides nationally and internationally acclaimed academic and research programs.
Utah State is recognized for the interaction between professors and students. Most students will find professors accessible, both to answer questions and give advice.
Learning at Utah State is an exciting mixture of coursework in the classroom combined with hands-on learning in special research projects, internships, meaningful employment opportunities and special programs to allow students to apply their classroom experience to real-world situations.
Services for International Students
The Office of International Students and Scholars (OISS) provides immigration and personal support to international students and scholars new to the U.S. laws, culture and educational system. In addition, the OISS and the International Student Council with support from the community offer annual cultural and social events to promote campus involvement and student interaction with other cultures.
International Admissions
The Office of International Students and Scholars will review an application for undergraduate admission once all official documents are received. The application packet includes a completed application form, proof of financial capability, an official and certified copy of all academic transcripts including college or university courses, official TOEFL score of 525/71, and a $50.00 application fee. A decision will be made and notification sent to the applicant within a couple of weeks.
The Intensive English Language Institute
The IELI program is open to students who want to get a degree at Utah State University as well as students who want to study English for personal or professional reasons. This program offers many advantages:
Quality program at a comprehensive university
TOEFL not required after English study
Credit-bearing classes
Safe and beautiful environment
On-campus or off-campus housing options
Scenic, recreational area
Quality Program
Full-time faculty have master's degrees in English as a Second language or closely related field. All faculty are highly experienced.
The Institute is a member of the AAIEP, UCIEP, and NAFSA. The Institute has completed the TESOL Self-Study.
Curriculum
Four levels of classes, beginning through advanced
Academic reading and writing
Academic listening and oral presentation
Conversation with Americans
Culture
Content based classes
Academic Credit
Students can earn 18 credits per session.
Up to 18 credits may apply as elective credit toward graduation depending upon department.
Classes apply toward the foreign language requirement for a Bachelors of Arts degree.
No TOEFL
Students who successfully complete the intensive English program need not submit a TOEFL score for either graduate or undergraduate admission to Utah State University (USU).
Special Programs
Visiting faculty program for high school and university teachers of English.
Professional Development Institute for teachers of English as a foreign language.
For more information:
Utah State University
Intensive English Language Institute
English Programs
English for Academic Purposes
English Language (ESL)
General English Programs
IELTS in the USA
Intensive English
Summer Intensive English