By Lindy Kravec
Nearly 975,000 students from other countries enrolled in U.S. colleges and universities during the 2014-15 academic year—an increase of 10 percent over the previous year, according to the Institute of International Education (IIE). Of these students, approximately 20 percent came to the U.S. to pursue a business degree.
"The frontier of business research and training takes place at the top universities in the U.S.," says Dr. Shan Yan, assistant professor of finance in the Sigmund Weis School of Business at Susquehanna University.
The American business community has a strong influence in the global economy. It makes sense to get a business education in the United States, where you will also have opportunities that don't exist at schools in your home country.
For example, many U.S. undergraduate business programs offer a valuable combination of classroom business theory and real-world business case studies, a focus on specific areas of business, and the chance to obtain internships at some of the most competitive companies in the world.
"Innovative business models are also being created in U.S. markets. When you combine the academic training with exposure to the real market, you can see how valuable U.S. business training is for international students," explains Yan.
There are more than 4,700 degree-granting institutions in the United States. Some offer two-year associate degree programs, while others are four-year colleges and universities that award bachelor's degrees.
The question is, how can you narrow down all of those choices to find the school that is right for you? Here are several things to consider:
Location – think about more than East Coast or West Coast.
The U.S. is a huge country, with much geographic, demographic and climate diversity. You may want to select a school that allows you to experience all four seasons of weather, or one that provides endless summer. You may prefer a school in a vibrant metropolitan area, or one in a charming small town. But you should also think about whether you want to study at a large public university, a tiny private college, or somewhere in between. Is it important to have small class sizes where you can easily interact with other students and your professor, or are you comfortable in larger class settings?
Remember, while you are a student in the U.S. you will have the opportunity to travel and explore many areas of the country. But in selecting an American school, consider how the location might impact your program.
As a business major, you may want to choose a college or university that is relatively close to financial centers such as Chicago or New York City, and one that has a proven track record of helping students network with professionals in their field. The opportunity to shadow a business professional for a day, or actually work in a corporate setting as an intern is priceless.
After graduation, your international student visa allows you to work in the U.S. for one year to gain practical experience. With your American business degree, you can gain experience in almost any industry, working for one of the leading companies in the world!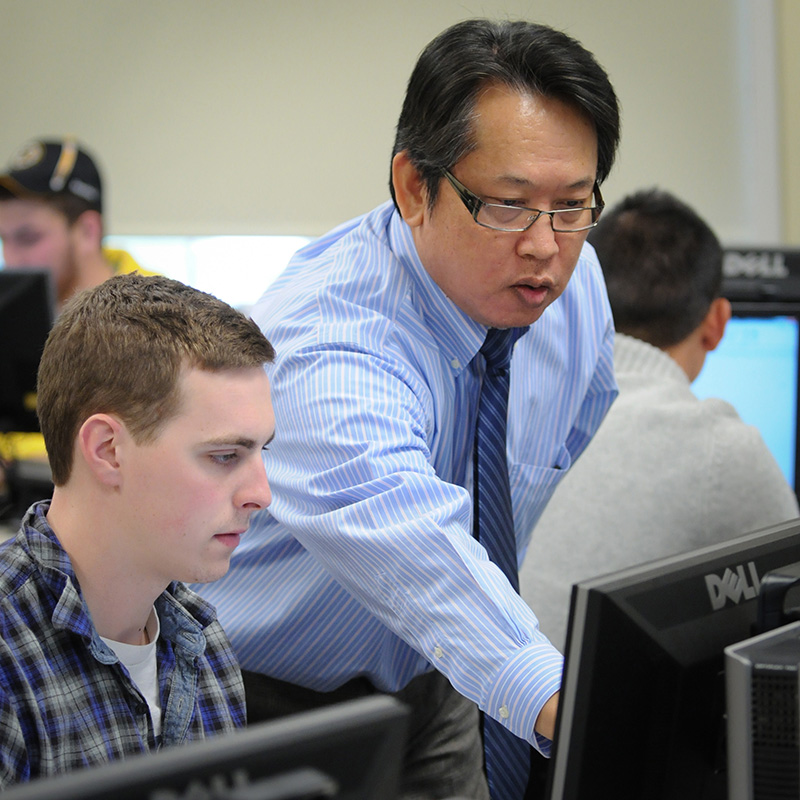 Look for specialized coursework delivered by faculty mentors.
Although many U.S. business schools offer degrees in general business management, most give you the opportunity to specialize in specific areas of business, such as finance, accounting, marketing, or even global management, entrepreneurship or luxury-brand management. These programs also allow you to gain a well-rounded education through elective courses that include world languages, math and sciences, social studies, literature and the arts. You will not only graduate with a business degree, but also a wealth of knowledge that will boost your ability to think critically across many disciplines, a skill that employers value.
You should not underestimate the importance of faculty in American business schools. Professors are trained from top universities and can deliver the most up-to-date information to students explains Dr. Yan. They are not only professors, but also researchers and mentors.
Professors schedule regular office hours when students can consult with them one-on-one to review coursework or discuss career plans. They will advise you of internship opportunities, and help you complete applications for employment or graduate school. As they get to know you, they will serve as your advocate, writing you letters of recommendation and connecting you with others who can help you succeed.
Susquehanna University accounting student, John Martone, owes his current internship to such advocacy. His advisor, Associate Professor of Accounting Jerry Habegger, connected him with an alumnus who directed him towards PricewaterhouseCooper's recruiting department. Now Martone interns with their office in Manhattan, assisting with corporate tax returns and research into potential clients.
As you search websites of colleges and universities that interest you, it's a good idea to read the curriculum vitae of faculty members who teach in your area of specialization. You'll find out more about their educational background and research interests, and gain insight into what you might learn from them.
Accreditation sets schools apart.
How do you know if a business school meets the highest standard of excellence? Look for accreditation from AACSB International. The longest-serving association dedicated to advancing management education worldwide, AACSB accredits 775 of the world's best business schools in 52 countries and territories.
AACSB accreditation ensures that the school follows a rigorous curriculum taught by highly qualified faculty, and that it undergoes continuous assessment and improvement.
Susquehanna University
Susquehanna University is one of few undergraduate colleges to have earned AACSB accreditation. Demanding coursework built on a solid liberal arts foundation gives Susquehanna business students what they need to succeed.
In addition, a required Global Opportunities program lets students embrace other cultures through study abroad experiences, and learn how to adapt to a rapidly changing global economy. Within six months of graduation, 98 percent of Susquehanna's business school graduates are either employed or accepted into graduate school.
"My family always believed that getting an education in the U.S. would set me apart from my peers …" says international student, Busisiwe L. Chapula.
Chapula came to Susquehanna University from her native Zambia. Preparing to graduate with her degree in accounting in spring 2017, Chapula says she chose Susquehanna because of its size and close proximity to the business centers of Philadelphia, New York City and Washington, D.C. Although location wasn't the only factor.
"What I like most about attending college here is how much I've learned outside of the classroom," says Chapula. "For example, I learned how to expand my network, create and perfect my résumé, and how to speak effectively in front of people."
Now that she is ready to graduate with her American business degree, Chapula, like many other graduates, is confident that she will have outstanding opportunities in her home country—or anywhere else in the world she may choose to live and work.