University of Miami Intensive English Program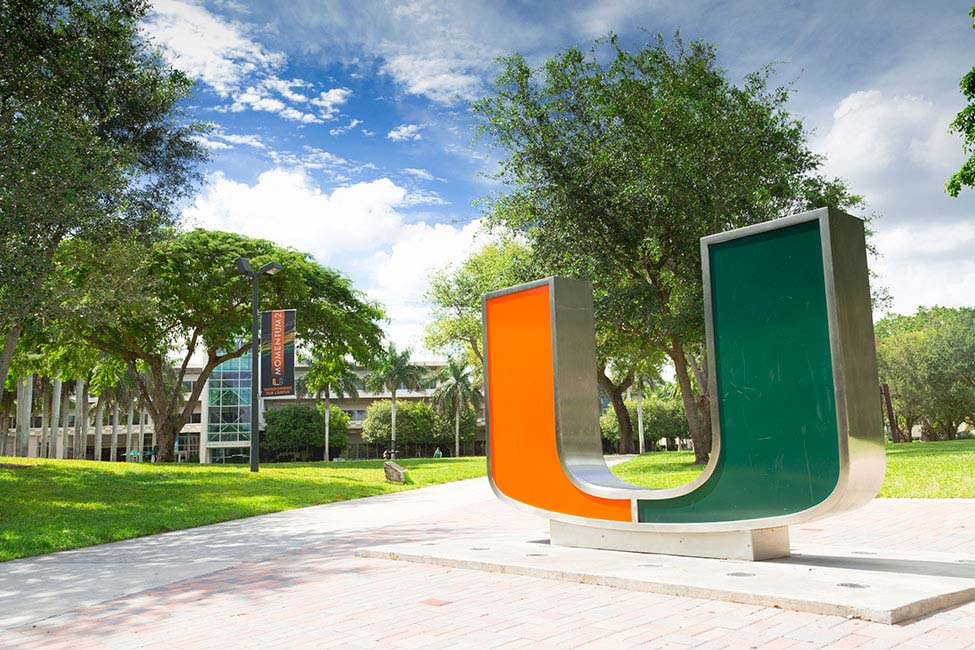 Fast Facts
Büyüklük

Küçük

Katılım Maliyeti

$500-$1,000 Yarıyıl

Üyelikler

Özel Okul

Okul Türü

Üniversite

Öğrenci Toplum Cinsiyeti

Karma Eğitim

Dini Yakınlık

Üyeliği Yok

Uluslararası Öğrenciler için Burslar

Hayır

Şartlı Kabul İmkanı

Hayır

Ortam

Şehir

Akreditasyon ve Sertifikalar

CEA, EnglishUSA Üyesi, UCIEP Üyesi

Konaklama Seçenekleri

Aile Yanında Konaklama, Apartman Dairesi

Sosyal Medya
YOĞUN İNGİLİZCE PROGRAMI
University of Miami Yoğun İngilizce Programı, dünyanın her yerinden gelen uluslararası öğrencilere ülkelerinden uzakta bir ev sunmuştur. University of Miami Yoğun İngilizce Programı'nın misyonu İngilizce dili ve akademik öğrenim becerileri konusunda eğitim vererek uluslararası öğrencileri ABD'de üniversiteye girmeye hazırlamaktır. IEP ayrıca hem sınıf içinde hem de dışında çeşitli etkinlikler aracılığıyla uluslararası öğrencilerin üniversite hayatı ve Amerikan kültürüne adapte olmasına yardımcı olmaktadır. Program karma kültürleri anlamayı kolaylaştırır, akademik olmayan konularla ilgili destek ile rehberlik hizmeti sunar ve yeni bir kültürde yaşama kolaylığı ve güvenini oluşturur.
UNIVERSITY OF MIAMI
Florida'daki University of Miami akademik mükemmelliği, yeni bilgileri keşfetmeyi ve bölgeye ve tüm dünyaya hizmet etmeyi isteyen son derece yetenekli kişilerden oluşan canlı bir topluluktur. UM ülkenin önde gelen araştırma üniversitelerinden biridir. Dünyanın her yerinden gelen 15.000'den fazla lisans ve lisansüstü öğrenciye ev sahipliği yapan UM her yaştan, geçmişten ve kültürden öğrencilere olan bağlılığıyla tanınmaktadır.
Yoğun İngilizce Programı, University of Miami Division of Continuing and International Education bölümünün bir parçasıdır.
KONUM
Yoğun İngilizce Programı, Florida eyaletinin Coral Gables banliyösünde bulunmaktadır. Ayrıca "Güzelliğin Şehri" olarak da adlandırılan ve Akdeniz mimari stilinin hakim olduğu Coral Gables az rastlanan güzelliğiyle öne çıkmaktadır. Tüm IEP ofisleri ve sınıfları, üniversitenin ana kampüsündeki Allen Hall'da yer alır. Kampüs Miami Uluslararası Havaalanına 6 mil, Miami şehir merkezi, Key Biscayne ve Miami Sahil bölgesine 15 dakikadan az bir uzaklıkta bulunmaktadır.
UNIVERSITY OF MIAMI IEP'NIN ÖNE ÇIKAN ÖZELLİKLERİ
İngilizce'yi ikinci lisan olarak öğretmede 60 yılı aşan deneyim
Herbiri kendini başarınıza adamış öğrenim görevlileri ve personel
Okuma, yazma, dinleme ve konuşmayı birleştiren entegre yetenek sınıfları
Telaffuz, güncel olaylar, öğrenim becerileri ve diğerlerini içeren seçmeli dersler
Internet erişimi, eğitimsel yazılım, ses ve diğer uygulamaları içeren tamamen entegre dijital dil laboratuvarı
Akademik olarak kalifiye olan öğrenciler için UM'e şartlı kabul
Kütüphane, olimpik havuz, fitness ve spor merkezi ile yemek tesisleri de dâhil olmak üzere tüm UM tesislerine erişim
Dönem boyunca kampüs dışı gezilerini de içeren özel etkinlik ve aktiviteler
EĞİTİM KADROSU
Yoğun İngilizce Programı fakülte üyesi İngilizce'yi İkinci Lisan Olarak Öğretme veya buna yakın bir alanda ileri derece Lisansüstü diploma veya doktoraya sahiptir. Buna ek olarak hem Amerika Birleşik Devletleri hem de yurtdışındaki diğer ülkelerde uzun yıllar eğitim vermişlerdir.
PROGRAM
IEP beş ayrı seviyede yoğun İngilizce eğitimi sunmaktadır. Sınıflar öğrencinin ihtiyaçlarına odaklanır ve seviyeye göre değişir. Beceri temelli ders programı okuma ve yazma, dinleme ve konuşma becerilerini eksiksiz bir ders programında birleştirir. Küçük sınıflar anlamlı sınıf aktivitelerine katılmak için çok sayıda fırsat sunar ve rahat bir sınıf ortamı oluşturur.
IEP hem 14 hem de 6 haftalık programlar sunmaktadır. Programlar Ocak, Şubat, Mayıs, Haziran, Ağustos ve Ekim'de başlar.
AKREDİTASYON ve PROFESYONEL STANDARTLAR
IEP, Commission on English Language Program Accreditation (CEA) tarafından tam yetkili bulunmuştur. IEP, Consortium of University and College Intensive English Programs (UCIEP) ve American Association of Intensive English Programs'ın (AAIEP) kurucu üyesidir. Bu kuruluşların her ikisi de İngilizce programlarının kalitesinin profesyonel standartlarını desteklemektedir. IEP NAFSA'nın etik kurallarına bağlıdır.
University of Miami Intensive English Program

5050 Brunson Drive
Room 111
Coral Gabels Florida 33146
P: 305.284.2752