University of Wisconsin - La Crosse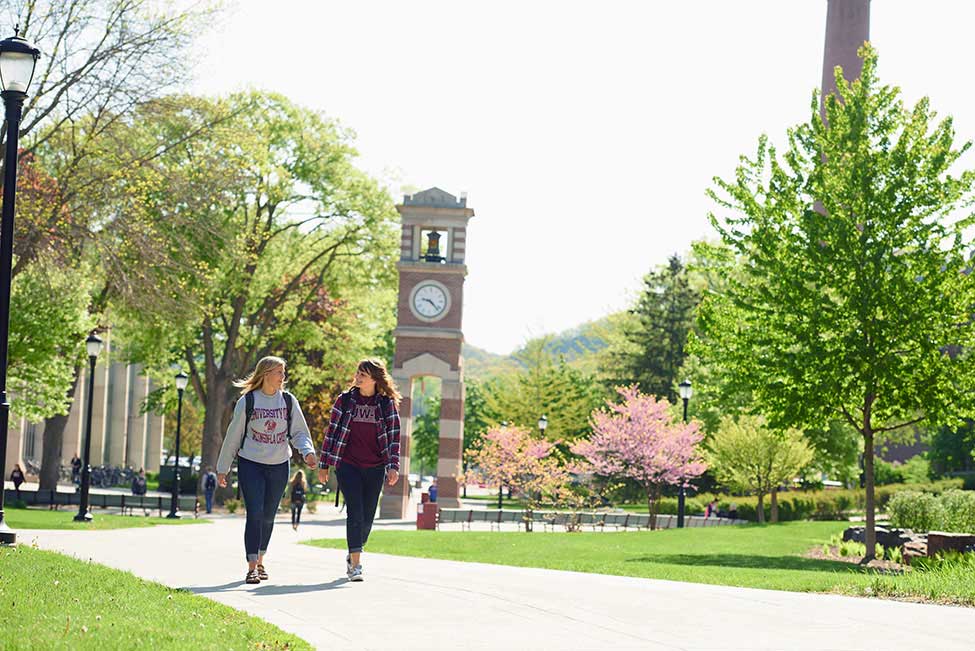 Fast Facts
Tamaño de la institución

Mediana

Costo de asistencia

S20,000—$25,000 Semestre

Affiliation

Pública

Tipo de institución

Universidad

Sexo del Cuerpo Estudiantil

Educación Mixta

Afiliación Religiosa

No Affiliation

Scholarships for International Students

yes

Admisión Condicional Disponible

yes

Principales Programas

Bioquímica y Biología Molecular, Negocios, Ciencias de la Computación

Entorno

Ciudad

Tipo de alojamiento

Residencia universitaria, Apartmento

Test Scores

TOEFL - 70 + , TOEFL - 70 + IELTS - Band 6 +,

Social Media
Bienvenido a la Universidad de Wisconsin-La Crosse:
La Universidad de Wisconsin-La Crosse (UW-La Crosse) es una universidad mediana e integradora con aproximadamente 10,000 alumnos. La universidad está completamente acreditada y forma parte del prestigioso Sistema Universitario de Wisconsin. UW-La Crosse fue fundada en 1909 y sigue desarrollándose para satisfacer las necesidades educativas y profesionales de sus alumnos. Ha establecido una tradición de excelente educación, planes de estudio rigurosos y servicios eficaces para la región y el mundo.
Ubicación:
El U.S. News & World Report ha clasificado a La Crosse entre los diez mejores lugares del país donde vivir. El amplio y parquizado campus está ubicado en una zona residencial de la ciudad. Tanto el campus como la comunidad ofrecen un entorno seguro y cordial. La Crosse es una ciudad mediana, cuenta con aproximadamente 60,000 habitantes y está ubicada en la sección sudoeste del estado, sobre el Río Mississippi. Se encuentra aproximadamente a 241 kilómetros de Minneapolis, Minnesota, y a 459 de Chicago, Illinois. El estado de Wisconsin está en la región superior del centro-oeste de los EE. UU., en la región de los Grandes Lagos. Aquí los alumnos disfrutan tanto las comodidades de las grandes ciudades como la calidez de los pequeños pueblos; es un entorno único donde vivir y aprender.
Puntos destacados de UW-La Crosse:
clasificada reiteradamente por "U.S. News and World Report" y "Kiplinger's Personal Finance Magazine" como una de las mejores universidades del país
gran cantidad de programas con acreditación profesional, incluidos los programas de grado y posgrado de negocios de la International Association for Management Education (AACSB)
aprendizaje en el aula, estudios en laboratorio y experiencias prácticas y de campo
atención personalizada; 21 alumnos por docente
el campus y la comunidad son seguros y amigables
matrícula y costo de vida razonables
becas parciales internacionales de matrícula por alto desempeño académico
programa de inglés intensivo disponible
admisión "restringida" a los estudios de grado (licenciaturas) para alumnos con puntajes de TOEFL menores a 73 y de IELTS menores a 6.0 (no inferior a 5.5 por cada sub-puntaje)
paquete de información previo al arribo, recibimiento en el aeropuerto, semana de orientación, asesoramiento y actividades extracurriculares
Programa de inglés intensivo:
El Instituto de Inglés como Segundo Idioma (ESL Institute) en UW-La Crosse ofrece programas para los alumnos que están preparándose para sus estudios universitarios y para quienes desean estudiar inglés por motivos personales y profesionales. Las clases son reducidas y hay instructores particulares disponibles sin costo adicional. Los cursos incluyen gramática, comprensión oral, lectura, conversación y redacción mientras se aprende sobre la cultura y las costumbres estadounidenses. Los estudiantes de niveles avanzados también pueden tomar cursos especializados de preparación para el TOEFL y el GMAT, y sobre métodos de investigación.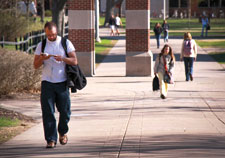 Los alumnos pueden utilizar todos los servicios de la Universidad, incluida la biblioteca, el centro de salud, el complejo deportivo, y los centros estudiantiles. Al final del programa se entrega un certificado de participación y un historial académico oficial de UW-La Crosse.
Títulos de grado (licenciaturas):
UW-La Crosse ofrece 88 carreras de grado en áreas de negocios, informática, comunicaciones, premedicina, ciencias del deporte, psicología, educación de la salud, ciencias del ambiente, arqueología, y programas de doble titulación en ingeniería. Muchas ofertas cuentan con acreditación profesional además del reconocimiento regional y nacional.
La admisión "restringida" a los estudios de grado está disponible para los alumnos que no cuenten con un puntaje del TOEFL, o cuyo puntaje no sea superior a 73. Los alumnos deberán rendir un examen sobre conocimientos de inglés cuando lleguen para determinar si necesitan estudios de idioma adicionales. Para ser admitidos deben haber finalizado un programa de escuela secundaria equivalente al diploma estadounidense correspondiente, con un promedio mínimo de 2.5 sobre una escala de 4.0. No es necesario el examen SAT para la admisión.
Estudios de posgrado (Maestría):
UW-La Crosse ofrece 23 programas de posgrado, incluido el MBA y programas en biología, salud, recreación, ciencias del deporte, ingeniería de software, educación y fisioterapia. Todos los programas exigen un puntaje mínimo de 79 en el TOEFL y un promedio de calificación mínimo de 2.85 sobre una escala de 4.0. Algunos programas tienen requisitos adicionales como el GMAT, el GRE, promedios más altos, y paquetes y fechas de inscripción separados. Se recomienda a los alumnos interesados que revisen el programa en el que desean inscribirse en el sitio web de UW-La Crosse.
Vida estudiantil:
En UW-La Crosse, la educación va más allá del aula, la biblioteca y los laboratorios de computación. Alentamos a los estudiantes internacionales a participar en nuestras más de 100 organizaciones y clubes estudiantiles, que incluyen gobierno estudiantil, deporte, artes escénicas, y eventos culturales y celebraciones. Además, los alumnos tienen acceso a excelentes oportunidades de liderazgo, servicio comunitario y pasantías.
La Oficina de Educación Internacional (Office of International Education - OIE) se dedica a apoyar y ampliar tus experiencias educativas, culturales y sociales. La OIE colabora con el campus y la comunidad vecina para crear experiencias culturales, tanto para los alumnos como para la comunidad. La OIE además asesora a los estudiantes internacionales sobre los requisitos para visas, seguros de salud, inscripción en clases, y oportunidades de empleo en el campus.
University of Wisconsin - La Crosse
1725 State Street
144 Cleary Center
La Crosse Wisconsin 54601
P: (608) 785-8939
intladmissions@uwlax.edu