San Mateo Colleges (Cañada College, College of San Mateo, and Skyline College)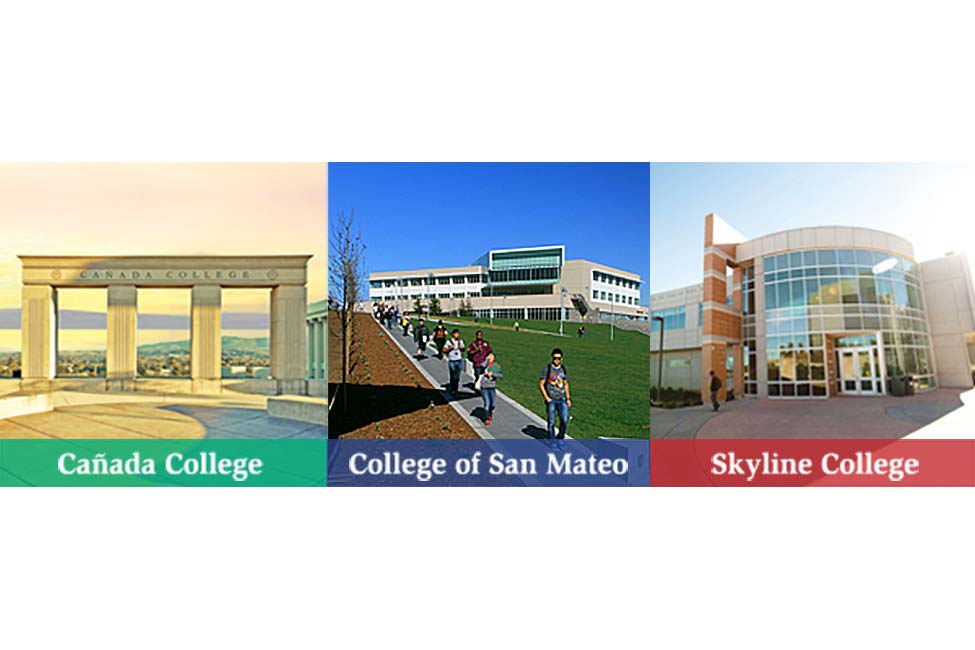 Fast Facts
School Size

Medium

Cost of Attendance

$5,000—$10,000 Semester

Affiliation

Public

Type of School

2 yr/Community College

Student Body Gender

Co-ed

Religious Affiliation

No Affiliation

Scholarships for International Students

yes

Conditional Admission Available

yes

Top Programs

Business, Computer Science, Engineering

Setting

Small/College town

Accreditation and Certification

AACC Schools

Type of Housing

Homestay, Apartment

Test Scores

TOEFL: 50 +, IELTS: Band 5.5 +

Social Media

The San Mateo Colleges are Your Bridge to Top Universities!
The San Mateo Colleges (Cañada College, College of San Mateo, and Skyline College) are consistently ranked near the top of California community colleges. The three colleges are known for their small class size, individual attention, and outstanding student support services.
The San Mateo Colleges are located between San Francisco and Silicon Valley in one of the most affluent communities in the United States.
Our Transfer Opportunities
Highest number of transfer students to the University of California including Berkeley and UCLA; the California State University system including San Francisco State University and San Jose State University; and private universities including Stanford, the University of Southern California, Notre Dame de Namur, and many others
Transfer Guarantees provided by 50+ American universities (including six of the University of California campuses) and 25 of them issue Conditional Admission Letters to qualifying applicants of the San Mateo Colleges
One out of three transfers to the University of California (UC) were UC Berkeley transfers. Over 75% of our UC transfers entered UC Berkeley, UCLA and UC Davis in 2012-2013
UC Berkeley accepts 100% of our int'l transfers since 1997 (College of San Mateo data)
Academic Excellence
More than 100 university transfer majors including business administration, communication studies, marketing, engineering, and multimedia
Small class size in many desirable fields including allied health, biotechnology, accounting, business administration, computer information science, multimedia, and interior design
Half of our professors graduated from the Top 100 Universities
New state-of-the-art classrooms, laboratories, and athletic facilities
Highest number of MESA (math, engineering, and science achievement) scholarships from the National Science Foundation among community colleges
Since 1995, we have invested close to $1,000,000,000 in modernizing classrooms, laboratories, and facilities
Support for International Students
Dedicated scholarships are available through the Global Beca Foundation on a competitive basis
10-day application turnaround time
Mandatory orientation with comprehensive academic, immigration, and cultural counseling
Extensive and personalized support from the international student staff, counselors, and faculty at each college because international students are only 1% percent of the total student population
Daily opportunities to interact with American students and other international students in the classroom, through college-sponsored activities, and through informal conversations and meetings
Tuition only $5,088 for an academic year (significantly below the cost of attending a four-year institution for one year)
Language Requirements
TOEFL requirements are 480 (paper), 56 IBT, IELTS score of 5.5, Pearson PTE 42.
If your TOEFL, IELTS, or ELS scores/levels are below the above, you may still receive conditional admission to the San Mateo Colleges. To gain required English proficiency levels, students can participate in intensive English training at our local language schools. For conditional admission based on eventual completion of ELS language training, please contact www.ELS.edu. Please contact each college for other language training opportunities offered by local language schools.
Kelvin Cheah transferred to San Fransisco State University
San Mateo Colleges (Cañada College, College of San Mateo, and Skyline College)

1700 W. Hillsdale Boulevard College Center, Building 10, Room 310
San Mateo California 94402
P: not specified
4200 Farm Hill Blvd.
Redwood City California 94061-1099
P: not specified
3300 College Drive
San Bruno California 94066
P: not specified